GREENBRIER RECAP: WOLFF SHOOTS 61; SMASH FINISHES 9TH
News
Written by
Mike McAllister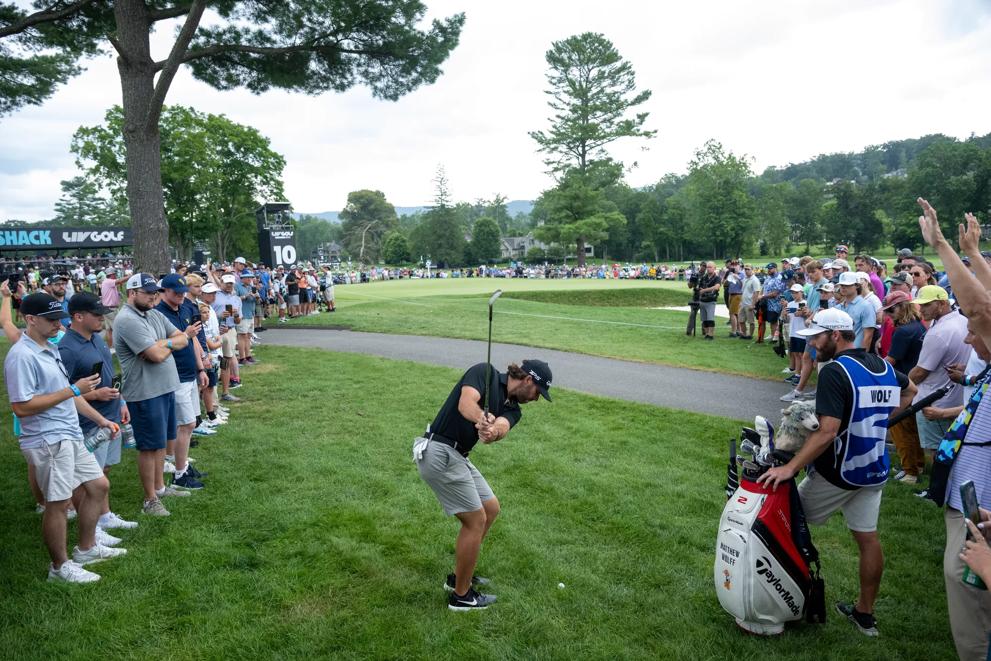 WHITE SULPHUR SPRINGS, W. Va. – Matthew Wolff posted Smash GC's lowest round of the season, a 9-under 61 in the first round, en route to a fifth-place individual points finish at LIV Golf Greenbrier.
The team, meanwhile, finished in ninth place, losing a tiebreaker to Majesticks GC that cost them a chance to earn a team point. Both clubs shot 34 under for the three rounds at The Old White course, but the Majesticks had the higher counting score on the final day to claim the tiebreaker.
While disappointed not to gain points, Smash remains one of the eight teams mathematically in the running for a first-round bye at the season-ending Team Championship in Miami. Smash is seventh in the season-long standings with 52 points after 10 tournaments but must make a big push in the final three regular-season events to move up into the top four that receive byes.
Here's a recap of Smash GC's performance at LIV Golf Greenbrier:
MATTHEW WOLFF (-16, 5th place)
The big-hitting Wolff ended a frustrating stretch of six consecutive non-point performances with a spectacular opening round, as he tied a then LIV-record low with his 61 to grab the first-round lead.
"Felt like I was super locked-in from the start, and I just stuck to my process," Wolff said after his round. "… Everyone goes through slumps, everyone goes through bad times, and I'm lucky mine only lasted a few tournaments."
Wolff followed his low round with 3-under 67 that left him as the co-leader entering the final round. He finished with a 4-under 66 that included five birdies on his back nine.
The fifth place points finish matches his season-best result of the season. He also finished fifth in Orlando.
"I'm extremely happy with the work that I've put in," Wolff said. "I've really been working on making sure that I'm committed to each shot, to every shot that I hit each round."
With his result, Wolff jumped from 27th to 20th in the season-long individual standings, moving him in position to earn guaranteed playing privileges for the 2024 LIV Golf League season with a top-24 finish at the end of this regular season.
JASON KOKRAK (-9, 24th place)
Kokrak posted his seventh points finish of the season and remained inside the top 20 in the season-long rankings with a solid performance. He opened with a 5-under 65 and followed with consecutive 68s.
BROOKS KOEPKA (-3, 41st place)
The Smash GC captain had limited opportunity to prepare, arriving Thursday morning after the birth of his son. He opened with an impressive 65 that included seven birdies but could not duplicate that form in the following two rounds, shooting 70 and 72.
Neither of Brooks' final two rounds counted for the team score – the first time this season his scores had not counted. Brooks had counted for 29 consecutive rounds going back to last season.
In finishing 41st, Brooks also saw an end to his streak of seven consecutive points finishes. He remains in third place in the individual season-long standings.
CHASE KOEPKA (-2, 42nd place)
After opening with a 2-over 62, Chase bounced back with consecutive rounds of 68, with both of his scores counting for the team. It's the fifth consecutive tournament in which he's provided at least two counting scores.
STAT REVIEW
Field ranking in parenthesis.
Fairways Hit
Wolff – 31 (T13)
C. Koepka – 29 (T22)
Kokrak – 27 (T29)
B. Koepka – 20 (T45)
Driving Distance Avg.
Wolff – 322.7 (4)
Kokrak – 314.2 (15)
B. Koepka – 314.1 (T16)
C. Koepka – 291.1 (42)
Greens in Regulation
Wolff – 42 (T23)
C. Koepka – 41 (T29)
Kokrak – 41 (T29)
B. Koepka – 37 (T41)
Total Putts
Wolff – 83 (T5)
Kokrak – 86 (T14)
B. Koepka – 87 (T20)
C. Koepka – 93 (T38)
Total Birdies
Wolff – 19 (T2)
B. Koepka – 14 (T21)
Kokrak – 13 (T25)
C. Koepka – 9 (43)